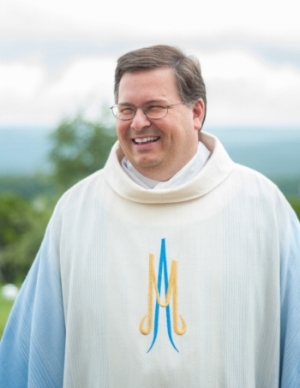 My dear friends,
Today I would like to share with you a bit of my personal history in connection to this new responsibility at St. Kieran. Part of my life happened here in Miami. I remember particularly the years of high school when I attended La Salle and participated in masses and celebrations here at St. Kieran. This place became very familiar to me. Then, in my college years, I discovered the gift of my vocation to the priesthood in the Schoenstatt Fathers. That decision led me to training in different countries such as Chile and Germany among other countries. And after my ordination to the priesthood 15 years ago, I have lived in Austin, Texas.
When a year ago, I returned to Miami to reunite with my family and begin graduate studies at St. Thomas University, never did I imagine that I would someday be asked to take the reins of this community of St. Kieran. When Archbishop Wenski called me with the news on May 29, I thought back to this neighborhood, church and school that I have not called home for a very long time. I thought about how delicate and mysterious Divine Providence is and how the Lord has now brought me back here to serve you all.
A few weeks ago, I came to visit Bishop Baldacchino who offered to give me a tour of the grounds and to start the transition process. He could not have been more welcoming and gracious. I thank him for 5 years of grace-filled service as your pastor. Please let us keep him in our prayers as he now takes on a new responsibility as Bishop of Las Cruces in New Mexico.
I would like to invite you now to walk together, to accompany each other on this faith journey so that we can continue to grow as a community. I place my service to you and the life of our parish in the hands of our Blessed Virgin Mary so that she may guide us and accompany this pilgrimage in order to be more and better missionary disciples of her son, Jesus Christ.
Queridos amigos,
Hoy quisiera compartir con ustedes algo de mi historia personal en conexión con esta nueva responsabilidad aquí en St. Kieran. Parte de mi historia de vida se desarrolló aquí en Miami. Recuerdo particularmente los años de colegio donde puede asistir a La Salle y participar de algunas misas y celebraciones aquí en St. Kieran. Este lugar era muy familiar para mí. Luego, en los años de universidad descubrí mi vocación sacerdotal en los Padres de Schoenstatt. Y esa decisión me llevo a formarme en Chile y Alemania y visitar otros países. Desde mi ordenación sacerdotal, hace 15 años atrás, he vivido en Austin, Texas.
Hace un año, cuando regresé a Miami para reunirme con mi familia y comenzar mis estudios de posgrado en la Universidad de St. Thomas, nunca imaginé que algún día me pedirían que tomara las riendas de esta comunidad de St. Kieran. Cuando el arzobispo Wenski me llamó con la noticia el 29 de mayo, recordé este barrio, la iglesia y el colegio los cuales no he llamado mi casa por mucho tiempo. Pensé en lo delicada que es la Providencia y en cómo el Señor me ha traído de vuelta aquí para servirles a todos ustedes.
Hace unas semanas, visite al obispo Baldacchino, quien me hizo un recorrido por los terrenos de la parroquia y comenzamos el proceso de transición. Él fue muy acogedor y amable conmigo. Le agradezco por estos 5 años de servicio abnegado como su párroco. Mantengámoslo en nuestras oraciones ahora asume una nueva responsabilidad como Obispo de Las Cruces en Nuevo México.
Ahora los quiero invitar a caminar juntos, a acompañarnos mutuamente en este camino de la fe para que podamos seguir creciendo como comunidad. Pongo mi servicio a ustedes y toda la vida de la parroquia en manos de la Santísima Virgen María para que ella guie y acompañe este peregrinar para poder ser más y mejores discípulos misioneros de su hijo Jesucristo.