These times have certainly challenged our faith and relationship with God and the Church. Don't stay idle and act on that desire to give your faith a new ardor. Join our new St. Kieran virtual Word on Fire group!
Bishop Robert Barron created this groundbreaking program as a thematic presentation of what Catholics believe and why, so all adults can come to a deeper understanding of the Catholic faith. Not a video lecture, Church history or Scripture study, this engaging and interesting formational program uses the art, architecture, literature, music, and all the treasures of the Catholic tradition to illuminate the timeless teachings of the Church.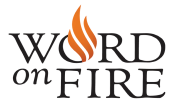 Using Zoom as a virtual meeting room, we invite you to join this video-based study program lead by a St. Kieran's group moderator where you will meet other parishioners for 21 sessions, 90-minute-long (30-minute video + 60-minute discussion) every other week to explore what the Church believes and why. Each session includes video viewing and small group discussion of the Study Guide questions. Participants read the commentary in the Study Guide and prepare the questions before the small group discussion. Plus, you will also work on some "Questions for Application" that help you connect the material to your own life and experience.
Sign up now! Fill the form below to sign up and receive information on how to log on to the Zoom meeting room for our first info session on Monday, October 26 at 7:30pm.
For more info. Visit: https://catholicismseries.com/watch/