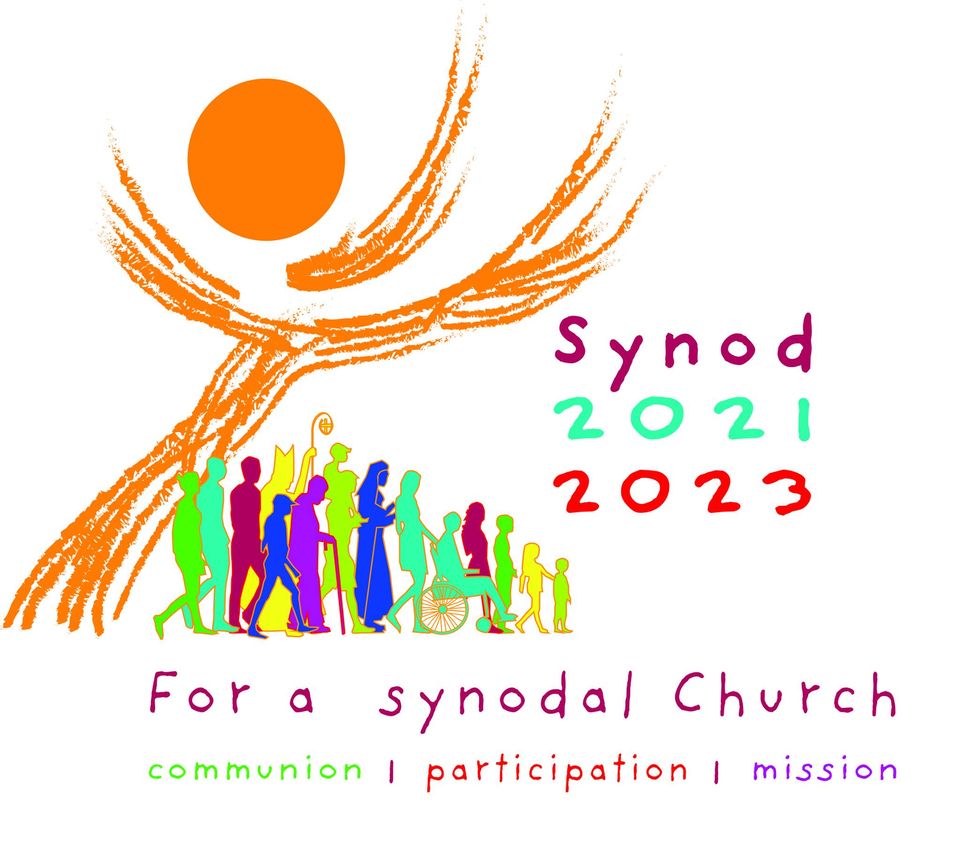 Welcoming the "Synod on Synodality"
Last Sunday united with parishes throughout the word, we celebrated the opening Mass of the Synod on Synodality convened by Pope Francis. It was a wonderful day filled with the Holy Spirit in communion with the Universal Church. As a body of Christ, we look forward to a new Springtime for the Church. Thanks also to all who came to our Fall Family Picnic! What a great way to build our parish family and celebrate the opening of the Synod for our Church. Thanks to the Young Couples Community for organizing the event.
A message from Archbishop Wenski about the Synod
In April 2021, Pope Francis announced the next General Assembly of the Synod of Bishops: "For a synodal Church: communion, participation and mission." Since its establishment during the Second Vatican Council, the Synod of Bishops has provided a forum for the forward progress of our Church. Recognizing that the Church today must exist "permanently in a state of mission," the Holy Father has stated that the Synod of Bishops "must increasingly become a privileged instrument for listening to the People of God." (Episcopalis Communio) With the convocation of this XVI Synod of Bishops, therefore, the voice of the People of God will be solicited and heard in a new way.
Our Archdiocesan synodal process will commence in communion with the Universal Church this Sunday, October 17, 2021, and close on the feast of Pentecost, June 5, 2022. During this time, every parish and all the People of God are called upon to participate in the consultation process, so that we may "gather the wealth of the experiences" of our local church (Vademecum 31). Not only will we be exploring the themes, challenges, and gifts of the Universal Church as one family "journeying together," but we will also be exploring our own local initiatives in light of the Archdiocese of Miami's 2014-2016 Pastoral Plan,"Disciples in Faith, Missionaries of Hope" and seeking to establish renewed priorities for the upcoming five years.
Saint John Paul II said that "the secret of the success of the Synod, as of every other ecclesial event and initiative, is in fact prayer," and accordingly, I ask that you pray for the Synod here and around the world, "so that it might become an authentic event of grace." I will be taking an active role in this diocesan phase of the Synod and ask the same of each of you. I encourage you to fully participate possible in your own parish consultive session and to provide your voice to the synodal process.
Dándole la bienvenida al "Sínodo sobre la sinodalidad"
El domingo pasado, unidos a las parroquias de todo el mundo, celebramos la Misa de apertura del Sínodo sobre Sinodalidad convocado por el Papa Francisco. Fue un día extraordinario lleno del Espíritu Santo en comunión con la Iglesia Universal. Como cuerpo de Cristo, esperamos una nueva primavera para la Iglesia. Gracias también a todos los que participaron de nuestro picnic familiar! Una excelente manera de construir comunidad y celebrar la apertura del Sinodo de la Iglesia. Gracias al grupo de Parejas Jóvenes de la Parroquia que organizaron el evento.
Un mensaje del Arzobispo Wenski sobre el Sínodo
En abril de 2021, el Papa Francisco anunció la próxima Asamblea General del Sínodo de los Obispos: "Por una Iglesia sinodal: comunión, participación y misión". Desde su creación durante el Concilio Vaticano II, el Sínodo de los Obispos ha proporcionado un foro para el progreso hacia Adelante de nuestra Iglesia. Reconociendo que la Iglesia de hoy debe existir "permanentemente en un estado de misión", el Santo Padre ha afirmado que el Sínodo de los Obispos"debe convertirse cada vez más en un instrumento privilegiado para la escucha del Pueblo de Dios ". (Episcipalis Communio) Con la Convocatoria de este XVI Sínodo de Obispos, por tanto, la voz del Pueblo de Dios será solicitada y escuchada de una manera nueva.
Nuestro proceso sinodal arquidiocesano comenzará en comunión con la Iglesia Universal este Domingo 17 de octubre de 2021 y clausura de la fiesta de Pentecostés, 5 de junio de 2022. Durante este tiempo, todas las parroquias y todo el Pueblo de Dios están llamados a participar en el proceso de consulta, para que podamos "reunir la riqueza de las experiencias" de nuestra iglesia local (Vademécum 31). No sólo exploraremos los temas, desafíos y dones de la Iglesia Universal como uno familia "caminando juntos", pero también exploraremos nuestras propias iniciativas locales a la luz de el Plan Pastoral 2014-2016 de la Arquidiócesis de Miami, "Discípulos en la Fe, Misioneros de Esperanza" y buscando establecer prioridades renovadas para los próximos cinco años.
San Juan Pablo II dijo que "el secreto del éxito del Sínodo, como de todos los demás eclesiales evento e iniciativa, es la oración", por eso les pido que recen por el Sínodo aquí y en todo el mundo, "para que se convierta en un auténtico evento de gracia". Estaré tomando un papel activo en esta fase diocesana del Sínodo y pido lo mismo a cada uno de ustedes. Le animo a participar plenamente en su propia sesión consultiva parroquial y brindar su voz al proceso sinodal.